Vaj CHAMPION 5W30 LL III 1/1
Description
DESCRIPTION
This is a full synthetic lubricant based on carefully selected very high quality base oils. It is specifically formulated to meet the most demanding VW specifications available today - VW 504.00 and 507.00 - as well as the Long Life III requirements of the VAG Group. It is a Mid SAPS oil which meets Euro 4 and Euro 5 norms and provides protection to the Diesel Particulate Filter.
APPLICATIONS
Backwards compatible: 504.00 and 507.00 supersedes all previous VW specifications (502.00, 503.00, 503.01, 505.00, 506.00 and 506.01).All vehicles in the VAG Group (Volkswagen, Audi, Seat, Skoda) with extended oil drain intervals (30.000 km or 2 years) from 2007 onwards.Note: For V10 TDI and 5-cylinder 2.5 TDI engines, prior to 2007, where the 506.01 specification has to be used, this oil is not recommended. The first generation engines with pump injector units should use the 505.01 specification. Meets all engine protection requirements of ACEA C2*.
FEATURES
Aftertreatment protection : full aftertreatment system protection. Total engine protection : outstanding engine cleanliness and durability. Fuel economy : lower fuel consumption and CO2 emissions.
PERFORMANCE
Low viscosity oil, which helps to reduce CO2 emissions and gives a minimum of 2% fuel saving. Contains a unique additive package to reduce ageing and extend drain interval. Engine durability is confirmed via demanding wear and piston cleanliness tests.
SPECIFICATION LEVEL
ACEA: C2*
ACEA: C3-16
API: SN
read more
I kërkuar
Additional information
Reviews (0)
There are no reviews yet.
Related Products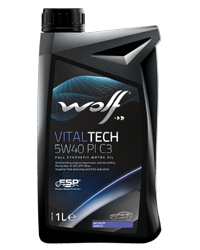 Vaj Wolf 5w40 PI C3 1/1
I kërkuar Produkt i ri